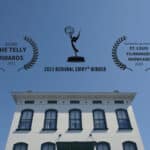 Founders Honored with Regional Emmy
November 1, 2023
In the ever-changing landscape of non-profit organizations, effective communication is crucial for garnering support, raising awareness, and driving meaningful impact. Amidst the cacophony of digital content, video has emerged as a powerful tool for storytelling and connecting with audiences on a deeper level.
At Tree9 Films, we craft compelling video narratives that resonate with non-profit organizations and their target audiences. Our team of experienced filmmakers has a proven track record of helping non-profits achieve their goals through video storytelling.
The Power of Video Storytelling
Video storytelling has the unique ability to transport viewers into the heart of a non-profit's mission, showcasing the transformative work they do and the lives they touch. It allows organizations to transcend geographical boundaries and engage with potential donors, volunteers, and beneficiaries on a more personal level.
We understand the nuances of non-profit storytelling and tailor our approach to each organization's unique needs and goals. Whether it's capturing the resilience of a community in crisis or highlighting the impact of educational programs, we create videos that evoke emotion, inspire action, and amplify the voices of those who matter most.
A Comprehensive Video Production Process
We take a collaborative approach to video production, working closely with our non-profit clients to ensure their vision is realized. From initial concept development to final editing, our team guides you through every step of the process.
Our expertise extends to a wide range of video production services, including:
Conceptualizing and scripting: Developing a compelling narrative that aligns with the organization's mission and goals
Location scouting and filming: Capturing stunning visuals that showcase the organization's work and impact
Professional editing and sound design: Creating a cinematic and engaging final product that resonates with viewers
Cross-platform distribution: Ensuring the video reaches its intended audience through strategic editing for each platform
Real-World Impact
Don't just take our word for it. Here's what our St. Louis nonprofit clients are saying about us:
Brian Miller, Director of Marketing & Communications, Make-A-Wish® Missouri & Kansas
"Tree9 is the premier video marketing company in St. Louis. Through the years, they've consistently conveyed our message and mission better than anyone else. Without a doubt, they're our go-to video team. Each video is created with the utmost care and attention to detail. Tree9 continues to impress with each project. Their stories have helped us reach new heights in our outreach and fundraising efforts. They've truly made a difference in the lives of the children we serve."
Erin Prange, Executive Director, The Big Muddy Dance Company
"These guys are true professionals. They make us feel incredibly comfortable in front of the camera, and the result is always an amazing piece with a stellar storyline and call to action. They've done so much for our organization's fundraising efforts and marketing!"
Courtney Berg, Executive Director, Girls On The Run St. Louis
"I cannot say enough positive things about working with Tree9 Films. Their ability to listen and help us tell our story is unparalleled. We came with a big, audacious idea, and they made it even bigger and better! The product far exceeded our expectations and is something we will continue to use."
How Tree9 Films Can Help Your Non-Profit
By partnering with Tree9 Films, non-profit organizations can leverage the power of video storytelling to:
Increase visibility and brand awareness
Attract new donors and supporters
Empower volunteers and staff
Educate the public about their mission
Drive positive social change
In a world where attention spans are short and messages are fleeting, video has become an indispensable tool for non-profit organizations to amplify their impact and create a lasting connection with their communities.
Ready to use video storytelling to transform your non-profit? Contact Tree9 Films today for a free consultation. Together, we can create videos that will inspire action and make a difference in the world.